We all know our cats can have a tendency to be a bit picky. They've got refined tastes, and they don't want to drink water that's been sitting out too long. The Petlibro Capsule can help keep them enticed with fresh and clean water that's constantly moving, so your cat knows it's safe to drink.
The Petlibro Capsule is a high-capacity water fountain that's a great addition to a cat's domain. The wide bowl makes it easy for your cat to get at the water inside, and the 2.1-liter capacity will help ensure there's a good quantity of water available for a couple cats even if you're frequently out of the house for longer work days. Since the water tank is translucent, it's also simple to see when the fountain needs refilling. 
With the Petlibro Capsule, your cat's getting a better, more attractive drink. By keeping the water flowing, the Capsule makes it easier for your pet to recognize that the water's there and safe to drink. The water is also getting run through a five-layer filter to remove hairs, debris, mold and other matter that might get into the water. 
Petlibro has designed the bowl and tank with fully-rounded corners to prevent areas of still water, where bacteria might otherwise establish a breeding ground. The shape helps make it easier to clean out, too, so mold doesn't develop.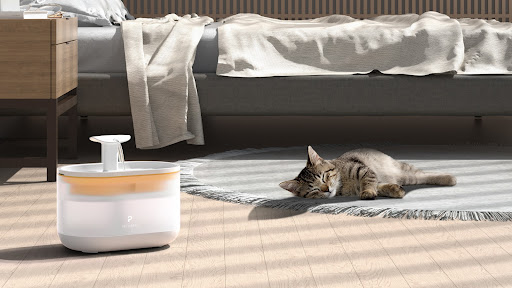 The Capsule offers two modes of operation, helping you find something to tempt your pet. It can run as a pouring fountain with a constant trickle of water going into the bowl, or the fountain can have water bubbling up from below while providing more space for your pet to approach the bowl. 
The operation is handled by a patented pump that runs at an extremely low noise level, letting you keep it on even while you sleep. 
If your cat doesn't seem to be drinking its water enough or its water bowl never seems to stay clean, the Petlibro Capsule water fountain is a great option to try. You can surprise your own pet with the Capsule fountain as a gift this holiday season or it can make for a great gift for a friend's pet. It comes in four colors — purple, blue, orange, and green —  to help complement your decor. Petlibro will release an upgraded version with a stainless steel water pan in this holiday season. And Petlibro Capsule is just one of the many helpful tools the brand provides to make taking care of your pet exceedingly simple. 
You can check out the Petlibro Capsule and other products from the brand here and use AFCAPSULE to receive a 15% off any product on their site.